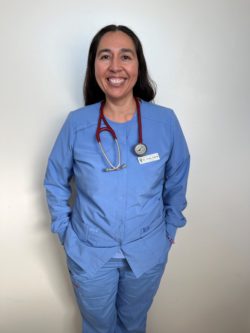 Dr. Kristy was born and raised in Alhambra, California and is a Southern California girl at heart. She graduated from UC Davis School of Veterinary Medicine in June 2005. She met and worked with Dr. Reagan at Talega Animal Hospital in San Clemente, where she practiced for 12 years.
Dr. Kristy wanted to be a small animal veterinarian for as long as she can remember. Her specialty is preventative care and she thinks it is incredibly important to educate clients on the costs, realities and expectations of what it means to own a pet.
She feels that the patience she needs to deal with her patients is garnered from the patience she needs to deal with her 12-year-old son, 1 old Chihuahua and 1 young cat in the house! In her spare time, she enjoys antiquing with her mom, exploring new and familiar eating places, and going on adventures with her husband and son!
Dr. Kristy knows how important your pets are to you and looks forward to helping to keep your furry loved ones healthy.