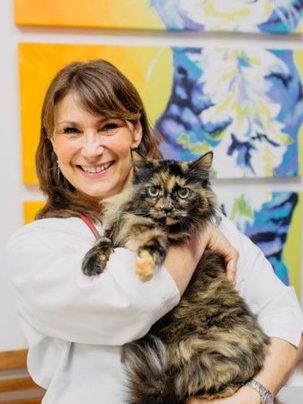 Dr. Heidi Watkins has been obsessed with animals for as long as she can remember. Growing up in Southern California, her family nurtured her passion and allowed her to take in and care for just about any animal young Dr. Watkins could find. By high school graduation, she had her mind made up: a career in animal medicine was the perfect choice for her.
After graduating with her Bachelor's Degree in Biology, Dr. Watkins took a job at a New Jersey animal hospital as a Veterinary Technician. She was then accepted to Ross University's School of Veterinary Medicine in the Caribbean. Her clinical year was spent stateside at Texas A&M University's School of Veterinary Medicine and she graduated in 2006 with her DVM Degree.
Dr. Watkins has worked in a variety of different hospital settings, including a 24-hour, seven-days-a-week emergency facility, exotic clinics, and feline-only practices. She's also written several articles about dogs and cats including working with feral cats in trap-neuter-release programs. In fact, cat care is Dr. Watkins' special interest; she has focused much of her continuing education in feline medicine and is a member of the American Association of Feline Practitioners (AAFP).
When she isn't caring for animals at the hospital, Dr. Watkins loves spending time with her husband, their son, the family's numerous cats and other animals.   She also enjoys horseback riding, nature walks, and camping.